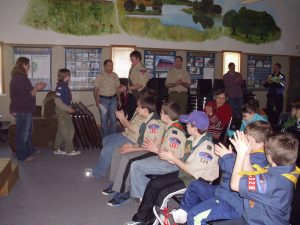 Want some help earning badges? Girl Scouts, Boy Scouts, and Cub Scouts are encouraged to call our office to schedule a custom program that meets your Scout level and requirements. The Ney Nature Center also allows for Scout groups to camp on site. Below is a list of programs we can offer. We have the potential to develop other topics upon request. Click here to view our Group Program Cancellation Policy.
Contact the Ney Nature Center for more information about cost, camping, and to schedule a program.
COVID19 Communications with Groups/Field Trips:
Please note due to COVID19 we are conducting our programs outside, weather permitting. Masks are not required at this time but social distancing is recommended for groups. This may change, please contact us for the most updated information or if you have questions or concerns. You can reach us by email or call us at 507-357-8580.
Boy Scout Merit Badges we can teach
Archaeology
Archery
Astronomy
Backpacking
Bird Study
Communications
Environmental Science
Fish & Wildlife Management
Fishing
Forestry
Geocaching
Geology
Hiking
Indian Lore
Insect Study
Kayaking (contact for details)
Mammal Study
Nature
Orienteering
Plant Science
Pulp & Paper
Reptile & Amphibian Study
Snow Sports
Soil & Water Conservation
Sustainability
Weather
Wilderness Survival
Cub Scout Programs by Level: (activities may be modified but will still cover the same concepts that are required)
Tiger:
Backyard Jungle
Tigers in the Wild
Sky is the Limit
Wolf:
Call of the Wild
Paws on the Path
Air of the Wolf
Digging in the Past
Finding your Way
Grow Something
Bear:
Webelos:
Webelos Walkabout
Adventures in Science
Castaway
Earth Rocks!
Into the Wild
Into the Woods
Girl Scout Badge Programs by Level: (We can also teach a few of the Girl Scout Journeys.)
Brownies:
Hiker
Letter Boxing
Home Scientist
Bugs
Juniors:
Camper
Animal Habitats
Geocacher
Naturalist Flowers
Cadettes:
Archery
Trailblazing
Night Owl
Naturalist Trees
Seniors:
Outdoor Adventurer
Voice for Animals
Locavore
Naturalist Sky
Ambassador: