All Ages Programs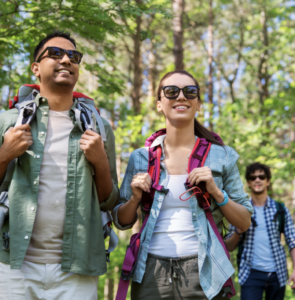 Hiking Club
Interested in exploring Ney's many miles of trails? Join a Ney naturalist and other snowshoeing/hiking enthusiasts for great conversation, new trails, and exciting adventures! Snowshoes are available for rent if needed – visit our winter equipment rental page on our website for more information.
June 10th from 2:00-3:00pm
June 24th from 2:00-3:00pm
Registration is not required, however, if we cancel the class, those registered will be notified. $FREE/member; $5/non-member. Register here.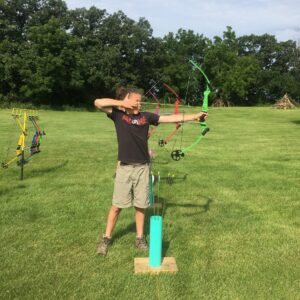 Ray's Lake Programs
We hold two programs a summer at Ray's Lake in Elysian – come check us out!
Archery: June 4th from 9-10:30am
Join the Ney Nature Center staff at Ray's Lake to learn all about archery! The program's time will be spent on instruction, learning about the equipment, technique, and safety. Then practice your skills with target shooting! Equipment provided. Participants must be age 9+. 
Fishing: June 11th from 9-10:30am
Join the Ney Nature Center staff to learn all about fishing! Equipment is provided but you are welcome to bring your own! Participants must be age 9+.

Registration is required. Register here.
Youth Programs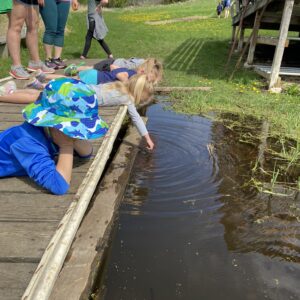 Youth Naturalist Series
Join us for a morning of exploration and hands-on learning for all students 5 years old and up!
Paused for the summer while we are doing summer camps!
Adult Programs
Lifelong Learner Series
Discover a new topic each month as we explore local wildlife, history, and conservation issues. Join us for lunch and conversation, please inform staff of any dietary restrictions. Ages 18+.
Nature Journaling: June 1st from 12-1:30pm
Nature journaling is a wonderful opportunity for individuals to connect with nature and deepen their understanding of the world around them through the art of observation and creative expression. In this class, participants will learn the basics of nature journaling, including how to observe and record details about the natural world. Throughout the class, participants will engage in guided exercises and prompts designed to inspire their creativity and deepen their connection with nature.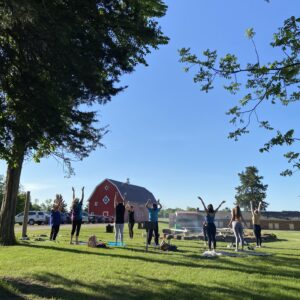 Wellness Classes
Let yourself take a deep breath of fresh air at one of our wellness classes this summer!
Yoga Classes
Guided by Tiffany Reinitz. Experience the calming of the mind and body with the gentle practice of hatha yoga. We will specifically be practicing a joints and glands series aimed at giving mobility to all parts of our body and paying particular attention to the immune system. We will end with a short meditation. All levels welcome, no experience necessary. Bring a mat and anything else necessary to be comfortable.
June 14th from 7-8pm
July 19th from 7-8pm
August 13th from 9-10am
Forest Bathing Classes
Guided by David Motzenbecker of Motz Studios. Join us on an immersive, meditative, and awe-inspiring Japanese forest bathing experience (Shinrin Yoku). Feel nature's fractals, sounds, and sensations melt away your stress and anxiety and enhance your focus. Give yourself permission to slow down and connect your senses to the healing beauty of Ney's green forested spaces.
Guests should wear boots/shoes, clothing/gear appropriate for weather. Walk will be held in light rain and snow, but not thunderstorms or negative temperatures. Please wear/bring mosquito/tick repellent and sunscreen if desired. Please bring water if you would like to have some available throughout the walk.
All participants must sign a waiver of liability prior to the walk, which is listed in the registration description when you sign up.
July 30th from 9:30-11:30am
October 15th from 9:30-11:30am
Click here to view our Public Programs Cancellation Policy.
COVID-19 Communications for Program Participants:
Please note due to COVID-19 we are conducting our programs outside, weather permitting. Masks are not required at this time but social distancing is recommended for groups. This may change, please contact us for the most updated information or if you have questions or concerns. You can reach us by email or call us at 507-357-8580.