Location: 118 North Main Street, Le Sueur, MN 56058
This hand-built house held Dr. W. W. Mayo's first medical practice witnessed events of the US-Dakota War of 1862, and eventually served as the family home for another giant of Minnesota history — the Cosgrove family of the Green Giant Company.
The Mayo House is managed in partnership with the Ney Nature Center and MHIS, Inc (Mayo House Interpretive Society.) Both the Mayo Family and the Ney Family arrived in this area of the MN River Valley in the mid-1850s. There is no way of knowing if the families knew each other but the general history of the time for settlers in the Le Sueur-Henderson area is shared.
Visit our Facebook and Instagram pages to keep up to date with tours, hours, important dates, and more information!
Tours
Open House Hours
Saturdays 10am – 4pm
Sundays 1pm – 4pm
*If you are interested in a private tour, please contact us at 507-665-3250 or mayohouse@mnhs.org.
Costumed guides will lead you through the home while they share stories of the Mayo and Cosgrove families who lived here before founding the Mayo Clinic and the Green Giant Company, respectively.
*NNC & MNHS Members, please be prepared to show your membership card or confirmation upon arrival.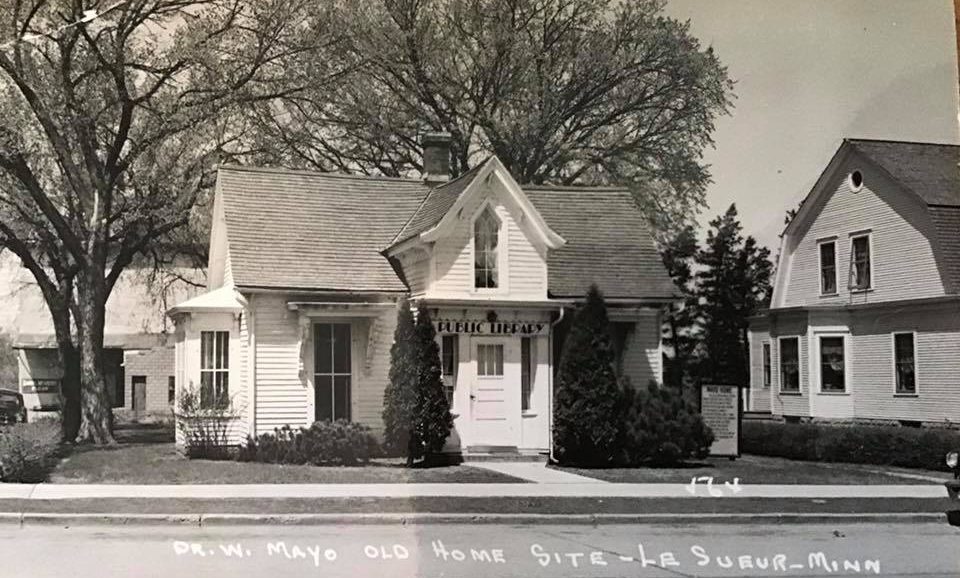 The W.W. Mayo House as the first library in Le Sueur.
For more information, please check out the W.W. Mayo House's page on the Minnesota Historical Society website here.