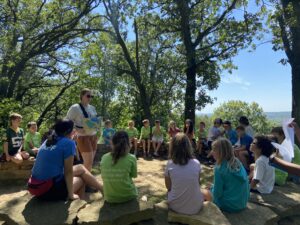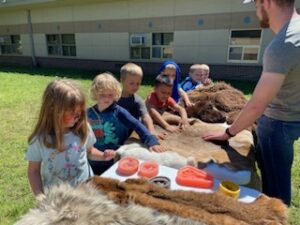 Field Trips & Visits to Ney On-Site
The Nature Center's staff organizes field trips to Ney for K-12 schools and homeschool co-ops, as well as 4-H groups, camps, and other youth programs.  We also serve as an outdoor laboratory for area colleges and universities.
Adult learners! Ney Nature Center is a day-use learning center designed to serve people of all ages. Just because you aren't in school anymore, that doesn't mean you can't have fun and learn at Ney! Whether you are looking for a group activity with your employees, a fun day trip with your friends from out of town, or you're the coordinator for an assisted living facility, we can work with you to set up a visit!
Pricing is determined based on the needs of each group, however, a general estimate is $5 per participant with a minimum billing of $50. This is subject to change – please fill out the form linked below for a more customized price quote.
Ready to schedule a visit? Fill out our interest form!
Bring Ney to You with Off-Site Programs
We are happy to bring our programming to your location to present too! If you are looking for a presenter for your club, 4H group, classroom, or more – we can help. Browse the list of topics first to grab some inspiration, we can bring (almost) anything to you.
Pricing is determined based on the needs of each group – please fill out the form linked below to receive a quote. 
Ready to bring Ney to you? Fill out our interest form!
Education Programs
Adaptations & Food Webs
Astronomy
Biomes & Habitats
Bluebird Nesting Boxes
Climate Change & Renewable Energy
Furs & Skulls
Geology & Soils
Homesteading
Invasive Species
Live Animal Meet & Greet
Making Maple Syrup*
Monarch Tagging*
Orienteering
Owls & Pellet Dissection
Phenology & Nature Journaling
Organism (Flower, tree, animal, etc.) Identification
Pollination & Flowers
Pond Study (Macro-invertebrates)*
Water Cycle
Weather & Seasons
Recreation Programs
Animal Tracking
Archery (ages 9+)
Axe Throwing (ages 12+)
Birding
Fishing*
Geocaching
Kayaking*
Nordic Skiing*
Snowshoeing* or Snowshoe Weaving
Team-Building
Terrarium Design
Wagon Ride*
Wilderness Survival Skills
* This program is not run year-round, contact us to learn more.
Please note, from June-August, our program topics for any group will depend on the staff available. In addition, please know that while we will do our best to schedule you on your preferred date, our calendar does fill quickly so the more notice we have, the easier it will be to accommodate your preferences.
To respect our staff's schedules, we ask that you contact us with a minimum of two weeks' notice. However, we will still do our best to get your group out no matter the time frame. If you are requesting a program less than two weeks from your preferred date, please email info@neycenter.org.
Save
Save
Save
Save
Save
Save
FAQs
What is your Cancellation Policy? Do I need to make a deposit before the program?
We do not require a deposit at this time. If a cancellation request is made more than two weeks before the program date, you will not be charged. If a cancellation request is made fewer than two weeks before the scheduled visit, a $50 service and staff time fee will be processed. If the cancellation is made fewer than 48 hours before the visit, you will be charged in full for the field trip.
Ney Nature Center reserves the right to cancel field trips as needed, due to staffing issues, weather, building maintenance, etc. If we cancel the program, you will not be charged.
How many programs can we do per day?
We cap our field trips at 4 programs per day, depending on staff availability. Each program is ~60 minutes with the exception of archery, kayaking, or some other recreation programs.
Do you have a COVID-19 policy?
We do not require masks at this time but ask any participants who are showing symptoms or who have tested positive to not attend our programs.
What do we do for lunch?
Groups can request up to 60 mins for lunch during a group visit, or eat after/before their program. The lunch area has about 6 picnic tables (some are wheelchair accessible) and a few other benches, otherwise, there is a large grassy area to sit. There will be a garbage can and recycling bin provided at lunch, however, to be as earth-friendly as possible, we recommend bringing reusable lunch bags and food containers. There is space inside the education building for lunches to be left upon request, but no refrigeration is available.
What if the weather is bad?
Field trips will be held in (almost all) rain or shine so all attendees must come prepared with footwear and appropriate clothing for the weather and outdoor terrain. Attendees are responsible for providing their own insect repellent and sun protection. If weather threatens the trip, the organization's staff and the Nature Center staff will plan to reschedule for the rain date agreed upon by both NNC and the organization. If no rain date is agreed upon, NNC will try to accommodate a request to reschedule if asked, but there is no guarantee. We do not have a picnic shelter and will allow groups to move inside the building if there is inclement weather, however, the education building can comfortably fit only about 40 people seated for programs and lunchtime, if your group is larger than that and may need to eat inside, we recommend rescheduling to your rain date. 
How many people can come on a group visit?
We try to keep each program group under 25. For groups larger than 25, be aware that we may split you up as needed into a rotation. At this time, we cannot accommodate groups larger than 100 without at least 90 days of advanced notice. 
What should I tell chaperones?
Chaperones are expected to be attentive and monitor youth behavior throughout the field trip. While the staff is trained in class management techniques, adult chaperones must intervene if a student is being disruptive. Chaperones should dress for the weather and try to leave cell phones stored unless it is needed (we welcome pictures). Ney staff will set group rules and expectations while your group is here, which we expect chaperones to model and reinforce. Our rule at Ney is Respect: Respect yourself by keeping yourself safe and letting people know if you need something, respect others by keeping your hands to yourself and listening to what others have to say, respect your leaders and chaperones by using listening ears and following instructions, respect the Ney equipment by using things as directed, and finally, respect nature by leaving wildlife alone, not pulling grass or leaves, etc.
If I want to do a program topic not listed, or do a field trip that doesn't fit the guidelines above, is that possible?
We try our best to accommodate all requests we get, and are able to be more flexible the more notice we are given.
What should I do if I have a question that you haven't answered here?
Email us at info@neycenter.org or fill out our interest form and include your question at the end!