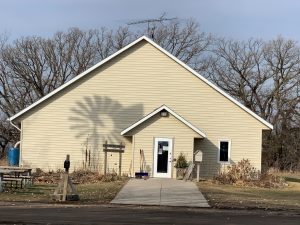 The Education Building was built in 1997 with funds from the Minnesota legislature and furnished with a generous grant from the Schmidt Foundation. The building may be rented for meetings, birthday parties, graduation parties, weddings, and other events. Members of the Ney Nature Center receive a $10.00 discount when renting the building. The Education Building is equipped with bathrooms, a drinking fountain, a kitchen area, tables and chairs for up to 70 people, nature and history displays, and a projector screen. Additional farm buildings on the site are locked and are only used for storage or appropriate classes such as birdhouse and snowshoe construction. The only building available for rent is the Education Building.
Cost of Education Building Use
Building rental fees must be paid at the time of reservation (payable to the Ney Nature Center) to help cover utility/cleaning costs and to hold your spot on the calendar. 
We have implemented a new fee structure effective July 1st, 2022. Please contact us with fees for building use at 507-357-8580 or info@neycenter.org.
A Damage Deposit of $50.00 for all building use is required at the time of building use application submission. The deposit will be returned upon approval of building and grounds conditions after the building use.
Education, conservation, civic, governmental, non-profit, and youth organizations will be charged $25.00 for a full or half-day. If you are charging a fee for attendance at your event, you are not eligible for the non-profit rate.
Building use for all other reasons will be handled individually.
$25.00 for use of the campfire ring. Firewood is provided. Collecting firewood is not permitted.
Large events, tents, and overnights will be handled on a case-by-case basis at the discretion of the NNC Board of Directors.
Reservations
Reservations for building use can be made by contacting the Ney Nature Center's Office at 507-357-8580 or info@neycenter.org, at least one week in advance. Large events such as graduation parties, reunions, and weddings need to be scheduled at least three months in advance to allow for the NNC Board of Director's approval.
The building is secured by an alarm system during non-park hours.
Ney Nature Center is a public county park and is open from sunup to sundown. Please keep in mind with large events that there will be park visitors throughout the day.
Parking & Accessibility
There are parking spaces at the Education Building and the Ney Homestead site, which include handicap-accessible spaces.
The parking lots and park entrances have gravel surfaces.
The hiking trails are mowed and trimmed regularly.
There are four wheelchair-accessible picnic tables near the Education Building.
Conditions of Use
The users of the facilities will be expected to clean up after themselves and secure the facilities as listed in our "After Building Use Checklist" which can be found at the end of the form. The deposit will be returned if all aspects of the checklist are completed in a satisfactory manner as determined by the Ney Nature Center staff.
Food, with the exception of beverages, may not be prepared at the Ney Nature Center; however, food that has been prepared elsewhere may be served on-site.
Alcohol is permitted if served in cans or plastic cups. Please recycle. Beer kegs and glass bottles are not allowed.
If tobacco will be used at an event, please provide your guests with proper waste receptacles to keep the grounds clean.
Firearms are not permitted on the premises.
Insect foggers or sprayers are not permitted on the premises.
Open fires are permitted only in the fire ring that is located in front of the Education Building when scheduled with Building Use. Firewood will be provided at an additional cost of $25. Collecting firewood is not permitted.
Users of the facilities are responsible for reimbursing the Ney Nature Center for damaged or lost property and unreturned keys.
Tent location: Discuss with Ney staff for acceptable tent placements as there are underground utilities to be cautious of.
Weddings: certificate of insurance is required for potential damage or injury during the event.
Alarm system: The Education Building alarm will be set to inactive during your scheduled event times, if those times change, please inform us or the alarm will automatically arm itself.
Anyone who fails to abide by the established rules or causes damage to property will not receive their deposit back and will be prohibited from future use of the facilities.

Save