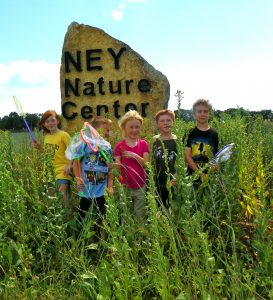 Host your child's next birthday party at the Ney Nature Center! Our Birthday Party Package includes a 90-minute activity with a naturalist and a three-hour building rental so you can spend time opening presents and serving food that you have brought with you. There is a maximum of 15 total participants for the program, unless stated otherwise. Click here to view our Group Program Cancellation Policy.
Birthday Party Fees:
$100.00 for Ney Nature Center members
$130.00 for non-members
$50.00 required refundable damage deposit
Optional: $25.00 firewood and fire ring rental
Interested in becoming a member at Ney Nature Center?
Click here for more information or to sign up now here.
Activities or Topics Include:
*Please note these are seasonal activities
Animal Furs, Skulls, & Tracks
Archery* – ages 9+ (Spring, Summer, Fall – as long as there's no snow!)
Cross-country skiing* (Winter)
Geocaching – ages 9+
Kayaking on the Frog Pond* – ages 12+, limit 6 participants
Meet the Animal Ambassadors – Eastern Tiger Salamander, Chilean Rose Hair Tarantula, Gopher Snake, and American Toad
Monarch Tagging* (Fall)
Nature Arts and Crafts
Nature Hike
Scientific Study of Frog Pond* (Spring, Summer)
Snowshoeing* (Winter)
Tractor Wagon Ride* – this activity is only 60 min (Summer, Fall)
Wilderness Survival Skills – program activities vary by age
Contact the Ney Nature Center at 507-357-8580 or info@neycenter.org to inquire about available dates and to book your birthday party today!