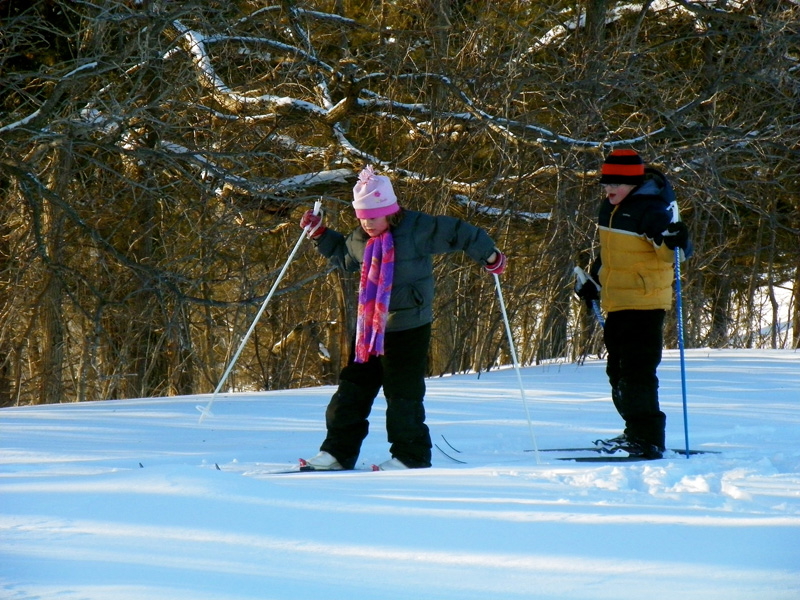 Once snow conditions allow, the Ney Nature Center will begin renting snowshoes and cross country skis from the Education Building. Equipment is available on a first come, first served basis. Equipment sizing will fit most users ages 7 and older.
Winter Rental Hours
Monday, Wednesday, & Friday: 9AM – 4PM
Tuesday & Thursday: 9AM – 7PM
Saturday & Sunday: 10AM – 4PM
Equipment Rental (XC Skis or Snowshoes):
$3 per member or $9 for a member family of 3 or more
$5 per non-member or $15 for a non-member family of 3 or more
The park is open daily. Ski trails are groomed by volunteers from the local snowmobile association within a day or two of snowfalls, and the sledding hill is also popular! We will post updates below when ski trails have been groomed and when rentals are available.
Once ski grooming begins, snowshoeing/hiking and cross-country skiing take place on two different trail systems. Click here to view the Winter Trail Map.
Trail Updates and Rental Status:
1.17.22  – Rentals are open today from 9am to 4pm.  Come spend the holiday snowshoeing or cross country skiing!
1.15.22  – The Ski Trail is groomed!  Rentals will open today at Noon – (we are short staff today.)
1.13.22 – Looking forward to the snow we are getting this weekend! Stay tuned, we will update our website and social media the minute the ski trail is groomed!
12.28.21 – Too bad we didn't get enough snow –  the ski trails are not groomed. Hopefully more snow will be coming soon!
12.12.21 – Confirmed – the Ski Trail is groomed!  Equipment rentals open today from 10am to 4pm!
12.11.21 – The ski trail will be groomed within 24 hours of the end of the snowfall!
12.7.21 – It's Snowing!  So happy!  We are looking forward to beginning the process of packing the snow for a great x-c ski trail! Check back for updates.
Save
Save
Save
Save