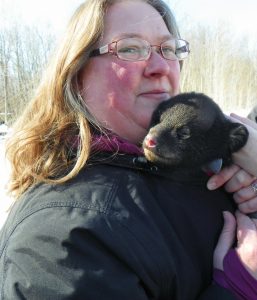 Executive Director: Becky Pollack
It is my pleasure to work at the Ney Nature Center. My connection to this park goes back to 1995, when the deformed frogs were found here by my fellow classmates form the Minnesota New Country School.
Before graduating from Mankato State University, Mankato with a Bachelor of Science Degree in Geography and minors in Earth Science and Geology, I was excited to take the position of Director here at the Ney Nature Center. My background with project based learning and love of the natural world as well as experience in nonprofit management made for an easy transition to Executive Director.
My husband, Nick and I, faithfully care for our two kids, Greg and Sami and our many pets: Sunny, a miniature horse, Flora & Fauna, two miniature goats, Eleanor our Chocolate Lab, and two bunnies, Lion & Snicker Doodle.
The Ney Nature Center is a remarkable place, full of history, geology and other natural world wonders. I enjoy greeting and sharing the phenology of the park with anyone that stops by.
Favorite Minnesota Animal: Northern Leopard Frog
Favorite Season: Spring
Favorite Outdoor Activity: Photography
Favorite Part of NNC: History of the Park's Land
Favorite Rock/Mineral: Sioux Quartzite
Favorite Flower: Rattlesnake Master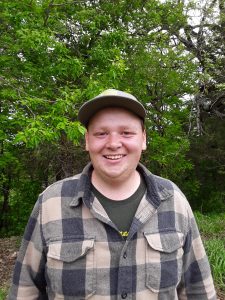 Resource Manager: Alex Colling
Hello! My name is Alex Colling, I am excited to be working as the Resource Manager here at Ney Nature Center. I graduated from South Dakota State University in 2019 with a B.S. in Wildlife and Fisheries Sciences. I have experience in almost every facet of natural resource management; from range plant identification to Electrofishing to Large mammal capture.
In my free time, I enjoy almost any activity under the sun. I am an avid cyclist, fisherman, and chef.  I also enjoy kayaking, rock climbing, frisbee golf, broomball, and volleyball. Fun fact about me; I have two taxidermy squirrels (one Eastern Grey squirrel and one Eastern Fox squirrel) that I mounted myself. If you have any questions about what's going on in the park, want to learn more about different land management techniques, or want to know how to stuff a squirrel, stop and say hi!
Favorite Minnesota Animal: North American Beaver
Favorite Season: Spring
Favorite Outdoor Activity: Getting lost
Favorite Part of NNC: Ravine Stream
Favorite Rock/Mineral: Azurite
Favorite Flower: Southern Magnolia
YES! Coordinator: Deb Groebner
We are excited to welcome Deb Groebner to the Ney Nature Center and YES! team as the new Southern YES! Coordinator!
She is "inspired by the courage of young environmental leaders like Autumn Peltier and Greta Thunberg. I am excited to apply my experience and creativity toward helping kids grow skills, knowledge, relationships, and confidence needed to embrace their own version of environmental stewardship! I look forward to working with YES! teams, other students, coaches, and partner organizations across southern Minnesota!"
Before joining YES!, Deb worked for over 20 years as an educator in both formal and recreational learning settings. She and husband Rob love living in North Mankato and in her spare time, Deb practices and teaches encaustic painting, a technique that involves fusing layers of melted beeswax to a wooden board with heat.
Programs Coordinator:
Favorite Minnesota Animal:
Favorite Season:
Favorite Outdoor Activity:
Favorite Part of NNC:
Favorite Rock/Mineral:
Favorite Flower:

Mayo House Interpreter & Naturalist: Beth Beuch
My name is Beth Beuch, and I recently came on board as Mayo House Interpreter and Naturalist.  I grew up on a farm just West of Henderson and am super excited to be able to fulfill my passion for environmental education so close to home! I love to be outdoors hiking, taking pictures, working in my garden, and doing whatever I can to enjoy what nature has to offer.  One of the goals I have set for myself is to visit and hike through all of the State Parks in Minnesota.  I'm about halfway there and having a great time doing it!
I graduated from NDSU with a Bachelor of Science degree in wildlife ecology and from the University of Wisconsin-Madison with a Master's in Library and Information Science.  I spent the first twenty-five or so years of my career moving around the country, teaching at nature centers and state and national parks, and then came back to Minnesota to work as both a naturalist and a librarian at various places.  I have spent a few years as a volunteer here at the nature center, teaching classes and watching it grow.  I love everything this place has to offer and I'm excited to see what we have planned for the future!
Favorite Minnesota Animal: Beaver
Favorite Season: Spring
Favorite Outdoor Activity: Photography
Favorite Part of NNC: Vernal ponds
Favorite Rock/Mineral: Amethyst
Favorite Flower: Blue Flag Iris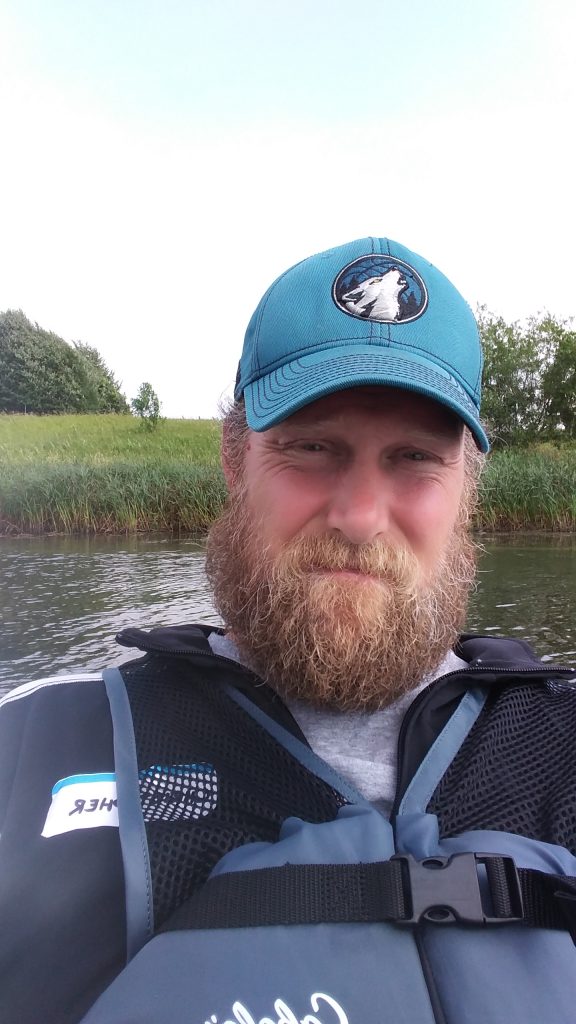 Outdoor Educator & Historic Interpreter: Christopher Johnson
Christopher began his work as an Outdoor Educator and Historic Interpreter at the Ney Nature Center in June of 2017. He has two awesome children, lives in Henderson, and also works at the Minnesota New Country School.
Favorite Minnesota Animal: Moose and Black Bear
Favorite Season: Winter
Favorite Outdoor Activity: Frisbee Golf
Favorite Part of NNC: The Trail System
Favorite Rock/Mineral: Quartz
Favorite Flower: Columbine
Save
Save
Save
Save
Save
Save
Save
Save
Save
Save